We observe that this is a startling question to be posed by a Bible founded Christian group. After all the Apostle Paul plainly stated to the congregation at Corinth that, I determined not to know anything among you, save Jesus Christ and him crucified. (1Cor 2:2) So why do we ask this question? We ask this question because there are many who believe that Jesus was not crucified on a cross.

The Jehovah Witnesses claim that Jesus was not crucified but impaled (executed) on a stake. Nowhere in the New World Translation of the Christian Greek Scriptures, published continuously since 1950, will you find the physical instrument of our Lord's death referred to as a cross, nor the action itself as a crucifixion – the term used throughout the Christian world. For example, we read in the NWT (Matthew 10:38) "And whoever does not accept his torture stake and follow after me is not worthy of me."
The sacrifice of Jesus is fundamental to the Christian faith, yet most Christians cannot reasonably explain why God required the death of his only son before he could begin to forgive a single person (Heb. 9:22). What does Jesus sacrifice accomplish and how does it redeem us? Why did God require his sacrifice in the first place? Will only Christian's benefit from Jesus' sacrifice?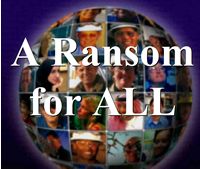 Click here to start a 10 minute
video slide presentation
A RANSOM FOR ALL
FREE BIBLE STUDY DOWNLOAD
The Divine Plan of the Ages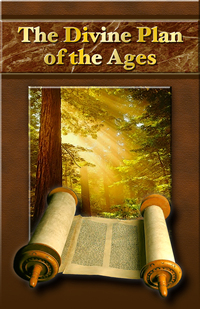 Click here to get this title and others like it.
"The title of this series of studies -- The Divine Plan of the Ages, suggests a progression in the Divine arrangement, foreknown to our God and orderly.